Technicall.us is now offering
DATA RECOVERY
services! If you fear you've lost important files either through accidental deletion, Operating System failure, power outage, or a physical hard drive failure, don't despair. Technicall is here to help, and we will give you the straight facts on your data recovery options.
Unlike other shady operations that want to charge you just to "try" and get your data back, we guarantee results, or NO CHARGE. We were dismayed to hear about companies that hold your disk, leaving you to assume they're doing their best to get your data back. Then, after an absurd amount of time and no results, you're presented a bill! What a scam and what an insult to injury! Technicall.us will present you with your data, restored to your preferred format, and only then, will charge you a pre-negotiated fee.

IMPORTANT: IF YOU HAVE LOST DATA, DO NOT LOAD ANY ADDITIONAL SOFTWARE TO THE DRIVE UNTIL YOU'VE CALLED US!
(Doing so may overwrite your missing files permanantly).
If you're in the Birmingham, Pelham, Helena, Homwewood, Alabaster, Vestavia Hills, MONTOGOMERY (home of the scammers I reference above) or Mountain Brook, Alabama area, call us (please leave a detailed message, we'll be in touch immediately) at
205-449-9937
and we'll be happy to assess the damage and offer recommendations,
at no charge!
Should you choose to utilize our services, you can drop off your computer, or ideally, just your crashed hard drive, at our store located in the South Lake shopping center off the I-65 Valleydale Road exit in Hoover/Birmingham. We'll then attempt the data recovery, again, AT NO CHARGE until we get your data back. We can't stress enough, NO RECOVERY = NO CHARGE to you!
We have an excellent track record of producing results. The reviews below are 100% verbatim from our satisfied customers:
"(technicall.us) was able to recover all requested data from my physically damaged hard drive. great work, would use again." -- James N., New York
(James mailed us his damaged disk. We returned his data within two weeks.)
"my data was recovered quickly and to my satisfaction." -- Lee H., Montgomery
If others have told you it's impossible to get your data back, want to hold your data hostage, or worse still, charge you for doing nothing, don't give up, and don't settle for less. Make the
TECHNICALL!
Your data recovery options -- try this, before you call us!
We at technicall are primarily concerned with getting your data back to you. Let's be upfront, data recovery is not the reason we got into the IT services business. We're much more interested in partnering and building a relationship with you or your company in order to better build out your network computing infrastructure and offer ongoing support.
Of course, there are some data recovery scenarios that DO require an advanced skill set and some experience in the process. These would, in general, include a formatted hard drive, an unrecognized (by Windows) file system, a RAID configuration that has lost too many disks, and most definitely, a physically damaged disk. We're more than happy to help with that, and we'll help at the lowest price in the Tuscaloosa, Birmingham, Hoover, Vestavia, Mountain Brook, Pelham, Moody, Dolomite, Helena, Bessemer, Coker, Montgomery area. And again, we will not charge you if we can't recover your data. Period. We know pretty quickly whether recovery is within our capabilities (and we know who to refer you to if it is not). Click here to contact us.
Your comfort level with, and available time for recovering computer data may be lower than what it takes to perform the relatively low impact data recovery exercise described in the methods below. If so, we'll be happy to offer our services as well as offer any other system tune up services you require.
NOW, with that said, let's blow the whistle on the basic data recovery techniques EVERY company you contact will perform FIRST (and charge you for!):
HOW TO RECOVER DATA IF YOU HAVE DELETED A FILE FROM WINDOWS:
1) Of course, check Windows Recycle Bin first. I know, this may seem like an obvious first step, and it certainly won't contain any data you've permanantly deleted (via Shift+Delete or by previously emptying the bin). But this article intends to cover ALL the bases.
The easist way to access the Windows Recycle Bin: Open your "My Computer," either from the desktop, or by clicking the Start Button.Click the 3rd icon at the top, that looks like a folder with an arrow (this places you at the desktop level). You should see Recycle Bin as an available option. Select this icon, double click, and see if the file you're looking for is in the Recyle Bin. If so, great, that's some easy data recovery. Right click on the file, and select Restore. Make note of the "Original Location" field, as that's where the file will be restored to.
Now, if your recovery needs are that simple, congratulations! But, for the 99% of other cases, keep reading.
2) If you have deleted files and can't recover them via the Recycle Bin: First, isolate the hard drive as much as possible. This means, don't do _anything_ that will write new content to the disk. Don't save files, don't play games, don't surf the web. Well, probably too late on that last option, but I'd stop at this point, and with the download I'm about to recommend. If you have a USB drive available, plug it in now. If you don't have one available, and if these files are critical, I would recommend buying one before proceeding.
The reason for this is pretty straighforward. When a file is deleted in Windows, it doesn't go away. Not at all. It is just "flagged" by Windows as a file that can be overwritten whenver Windows or an application needs some space. Windows doesn't look for "open" or unused hard drive space before writing files due to copy, move or content generation. Whenever a writable location is found, a bit of the requested file gets stored there, no second thoughts about it, even if that space contains a file you've accidentally deleted. Thus, when you accidentally delete a file, it is important to stop writing any other files as much as possible until you've recovered the deleted file.
So, the best way to recovery accidentally deleted files is to install recovery software, software that can "see" the deleted files Windows has marked as overwritable, and install that software to a second disk (so that the install itself doesn't overwrite your deleted files).
Here's a good, free utility (free for consumer use! Not free for businesses; you'll need a license if you use this in a corporate environment) for recovering accidentally deleted files. This software can be installed entirely on a removable (USB) disk. You can download the file to the USB drive and run it straight from there, never endangering overwriting your deleted files.
Download OfficeRecovery's FreeUndelete: http://www.officerecovery.com/freeundelete/
IMPORTANT: SAVE THE DOWNLOAD (SETUP FILE) TO AN EXTERNAL USB HARD DRIVE (i.e. NOT your C: drive).
Launch the FreeUndelete install. BUT, on the first screen, after accepting the license agreement, click Advanced.
Then, choose the bottom option, "Run without installing."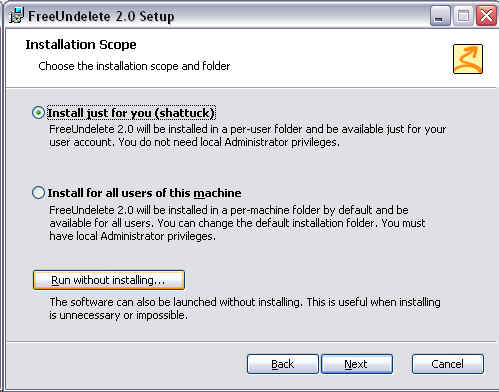 You will then see the following screen. Assuming the file is on your C: drive, select Scan C: A scan for all deleted files will begin, and depending on the size of your hard drive, finish fairly quickly (about 3 minutes on a 20 GB drive).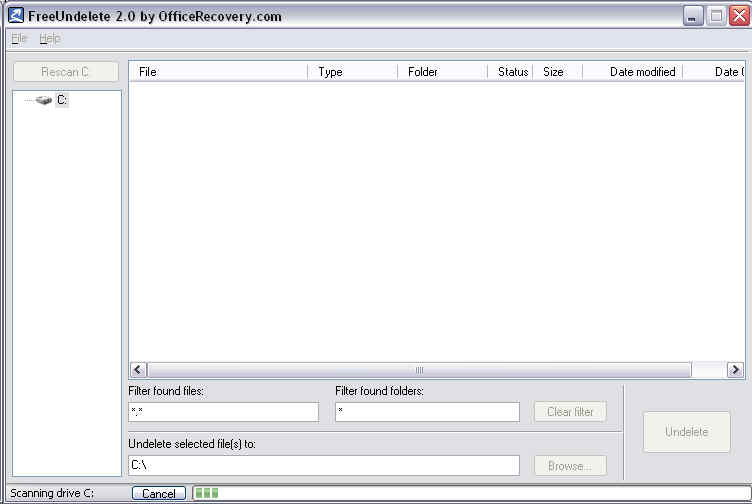 You'll then hopefully be presented with a list of folders from which the files were deleted from.
Drill down until you find your deleted file, and then hit Undelete. Your file will then be restored to the location specified in the field at the bottom (undelete selected file(s) to).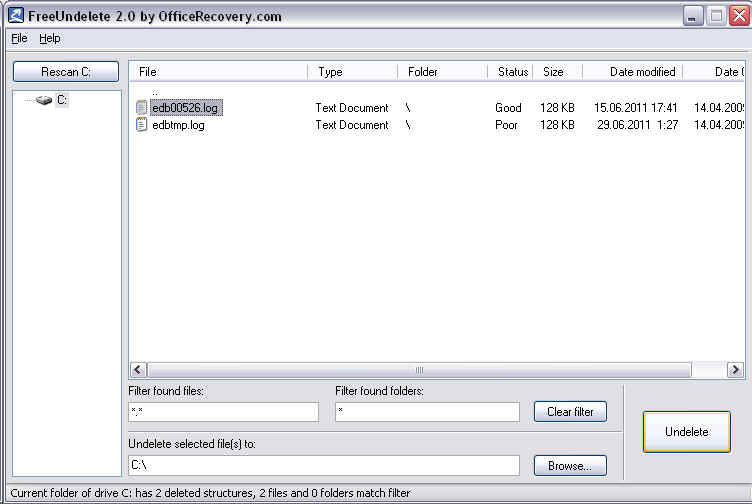 If this exercise proved successful, congratulations! Now make a backup of those files immediately.
If you were unable to locate your files, call on us and we'll be glad to provide you with other options, whether you choose to utilize our services, or not.
- Adam Paul Shattuck
Hoover, AL Birmingham, AL data recovery hard drive crash repair computer support spyware removal antivirus remote assistance custom programming business consulting data recovery undelete 35244